Talibans are a learge groups of students from the Pashtun area, they are educated in traditional islamic schools, from 1996 to 2001 they held power over at the Afghanistan and enforced strict interpretation of sharia (islamic law). The leader of the Taliban group is Mohammed Omar, he started the movement in Afghanistan to shift the power of mujahideen warlords. The talibans group was acknowledged by only three countries they are pakistan, Saudi Arabia and finally United Arab Emirates , after this the group was reunion as an insurgency movement to fight the American backed Karzai administration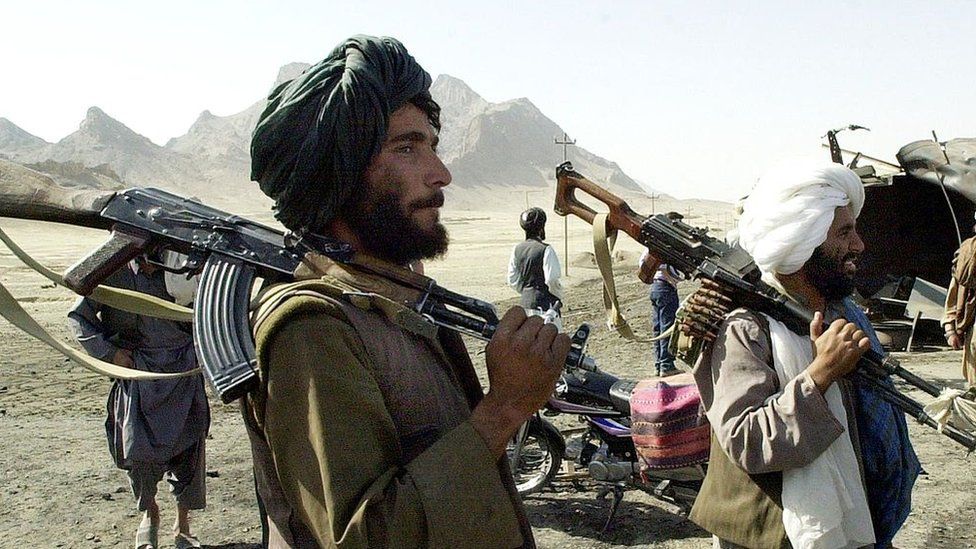 Talibans have been condemned for the harsh enforcement of their islamic law, which caused many afghans are brutally treated they kill many people who are against them, they burn more than thousand homes in the Afghanistan, they are baned so many social activities in the civilisation areas. They also prohibited music at their ruling country. Talibans are formed new rules for women's they are prevented to attening to schools r colleges, women's are not allowed to out side the city, male doctors are not treat the women, they always ware the burqas at all the times in public, if any women broke those rules they are punishable or they are executed in public.
Talibans are searching for the people who working got nato forces and previous government of Afghanistan, the militants are searching for door to door find the targets and threatens their family memebers, a waring was given by the talibans are targeting collaborators come in a confidential document by the rhipto Norwegian centre for global analyses, they are more people are currently being targeted by talinabs and the threat is crystal clear. Talibans warned that every one in black list was in severe danger and that there could be huge executions.
Talibnans are captured Kabul on Sunday, having swept across the country as foreign forces withdrew, talibans are fully occupied Afghanistan. number of prople are moved from the afghans, United States are cancels all financial activities and other political activities, more than 10 peoples are died when the plan was. 200 people of Indians are strutted in afghans embers, they are planing to exports those peoples from air lift, there is no chance to export them by road bacsue there are more 20 talibans are in every street of Kabul. India has planed an military mission by air ways only with the help of Russia and usa.
E emergency, ex- emergency and some of rules and regulations are changed in visa process are made by the Indian government , some of the Bangladesh peoples are traveling to Afghanistan to join the talibans groups who are inteted into join in the pakistan terrisist group, Badri 313 are using very high technology and weapons are fighting aside of talibans, they are realising the photos and videos of their activities on social media and YouTube,
President Joe Biden said on Sunday he still hoped to complete the "heartbreaking" evacuation from Afghanistan by the end of the month, but warned of possible terrorist attacks on the crowded Kabul airport. As the number of displaced people grows steadily, despite a volatile situation on the ground and enormous logistical challenges, Biden said he aimed to complete the operation by Aug.31, a date agreed with the Taliban. Speaking to the White House, he said he "hopes we don't have to extend". "We'll see what we can do," he added, when journalists asked him what his response was to foreign leaders asking for more time.
The White House said last Sunday that since last weekend, when the Taliban completed their victorious assault on Afghanistan by capturing Kabul from the fleeing national government, the United States "has evacuated and facilitated the evacuation of some 30,300 people on military flights ".
More than 500 tonnes of medical supplies, including surgical equipment and severe malnutrition kits that will be delivered to Afghanistan this week, are on hold due to restrictions at Kabul airport, the World Health Organization said on Monday. the World Health Organization said. Reuters. Nearly 18.5 million people – half the population – depend on aid, and humanitarian needs are expected to increase due to the drought.
"As the eyes of the world are now on the evacuees and departing planes, we need supplies to help those who remain," a WHO spokesperson told Reuters in a mailed statement. electronic. He said the WHO was calling for empty planes to be diverted to its warehouse in Dubai, United Arab Emirates, to collect supplies en route to pick up internally displaced people.